SeaPort-e is the Navy's electronic platform for acquiring support services in 22 functional areas including Engineering, Financial Management, and Program Management. The Navy Systems Commands (NAVSEA, NAVAIR, SPAWAR, NAVFAC, and NAVSUP), the Office of Naval Research, the United States Marine Corps, and the Defense Threat Reduction Agency (DTRA) use this vehicle to contract for their service requirements.
Sea

PORT
ZONE
POINT(S) OF CONTACT
APPROACH
QUALITY ASSURANCE
TASKS ORDER AWARDED
SGS is qualified as a Prime Contractor to support major functional areas in geographic zone–4 as defined by the contract.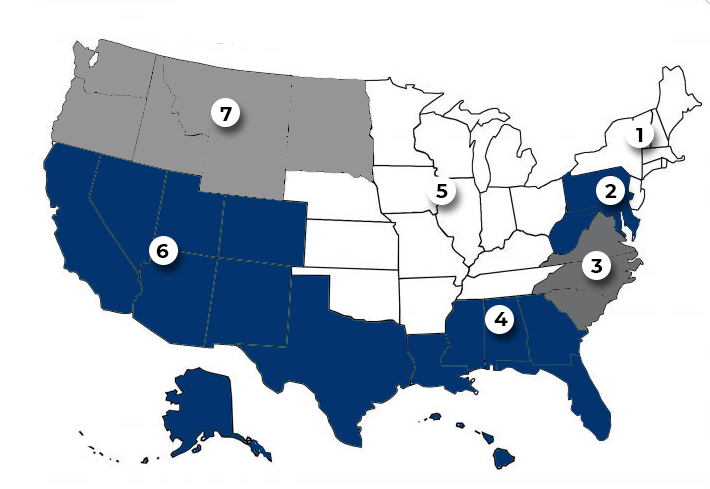 Zone 1 - Northeast Zone
Zone 2 - National Capital Zone
Zone 3 - Mid-Atlantic Zone
Zone 4 - Gulf Coast Zone
Zone 5 - Midwest Zone
Zone 6 - Southwest Zone
Zone 7 - Northwest Zone
Anand Venkatesan (904)332-4534
6817, Southpoint Parkway, Jacksonville, FL-32216
The foundation of our staffing and management plan includes:
Cumulative experience and expertise
Due diligence regarding all processes involved
Iterative quality checks
Effective feedback mechanisms
Swift and effective resolution of issues
Complete adherence to industry best practices
SGS Technologie leverages proven and effective cost saving processes. A majority of the sub-processes have been developed by our in-house team as a direct result of our experience and exposure to different clients, technologies, project-requirements, frameworks et al. over the 16+ years in operation.
Monitoring and Controlling:
Measuring the ongoing project activities (where we are);
Monitoring the project variables (cost, effort, scope, etc.) against the project management plan and the project performance baseline (where we should be);
Identifying corrective actions to address issues and risks properly (i.e. How to get back on track)
Effective feedback mechanisms
Swift and effective resolution of issues
Complete adherence to industry best practices
Closing Process:
The SGS closing process includes the formal acceptance of the completed project. All activities and document lessons learned are archived. This phase consists of:
Finalize all activities across all of the process groups to formally close the project or a project phase
Contract Closure: Complete and settle each contract (including the resolution of any open items) and close each contract applicable to the project or project phase
Process Control Modalities:
Anticipated Feed Forward –Proactive measurement, analysis, and implementation. This modality is essentially a buffer induction in anticipation of probable and possible issues.
Concurrent and Ongoing –Our highly agile and responsive issue detection and redressal mechanisms form another integral part of the defenses. The ongoing processes have probable errors that will be dealt with in real-time.
Feedback and Response –We consistently examine the processes and the consequent documentation to ascertain whether any intervention is required. This is also a part of the defense that is active after an issue has occurred
SGS Technologie is follows rigorous adherence to quality standards, and its management. SGS develops customer driven strategies that are primed for identification, translation, and incorporation of quality feedback into the ongoing processes.
SGS follows the ISO 9001 standard advocated "Process Approach". We base our operations on well-defined, structured, and quality optimized process cycles. We have:-
An organization specific "Quality Policy"
Establish process parameters
Thorough documentation
Clearly demarcated roles and responsibilities
Rigorous implementation, monitoring, and measurement of established parameters
Management reviews
ISO Quality Management Methodology: SGS follows a customized Quality Control process drawing the best features of the Six Sigma Methodology and the PDCA (Plan-Do-Act-Check) Cycle.
Plan/Define:Identify possible/present problem, define the goals, and clarify the scope
Do/Measure:Performance metrics are gathered
Check/Analyze:Information analyzed, best practices adopted, and requirements refined
Improve:Incorporate feedback, implement reviewed and approved changes
Act/Control:The maintenance cycle is developed and implemented
Service Gaps
The SGS approach maintains a constant vigil to detect and identify service gaps. We make certain that customer requirements are fully understood and provide realistic time frames after due diligence by the service staff. The continual and effective communication between the customer and the development team generates invaluable feedback and input. SGS will maintain a high quality of communication and mitigate the possibility of any future gaps.
The most recent conformed copy of each Task Order received under this contract.
No orders received yet.
Let's build

SOMETHING GREAT TOGETHER!